Ireland Women 2023
Forthcoming Fixtures
Tournaments 2023
Tournament Coverage
Women's T20 World Cup 2023 (South Africa, 10-26 February)
Tournament Coverage
ICC Women's Championship 2022-2025
Matches 2023
2nd T20I: Ireland lost to Scotland by 8 wickets
Desert Springs, Spain, 24 October.

Ireland 117/7 (20 overs: Amy Hunter 68; Priyanaz Chatterji 2-18, Hannah Rainey 2-21)

Scotland 121/2 (19.1 overs: Sarah Bryce 57*, Kathyrn Bryce 48*; Ava Canning 1-12, Alana Dalzell 1-19)
The Bryce sisters led Scotland to an 8 wicket win (CricketEurope)
Scotland levelled the T20 series with an eight-wicket win in Spain. Once again it was the Bryce sisters who provided the inspiration for their side with an unbroken third wicket stand of 111 as they chased down 118 to win in the final over. Ireland's innings was all about Amy Hunter, who hit ten boundaries in her 54-ball 68. The Belfast teenager received little support though and a total of 117 for 7 looked a little light and so it proved. A series win for Ed Joyce's side but much food for thought with the team far from their best at times.
!st T20I: Ireland beat Scotland by 7 wickets
Desert Springs, Spain, 23 October.

Scotland 91 (18.3 overs: Darcey Carter 45; Laura Delany 2-7, Alana Dalzell 2-8, Cara Murray 2-15)

Ireland 92/3 (16 overs: Gaby Lewis 53*, Laura Delany 25; Olivia Bell 2-20)
Gaby Lewis (Mateo Villalba)
A half century from Gaby Lewis, who shared a 62-run stand with Laura Delany (25) led Ireland to a comfortable seven-wicket win over Scotland in their first T20I in Spain. Chasing a modest 92, Ed Joyce's side lost Amy Hunter and Orla Prendergast cheaply, but coasted to victory thereafter. the win was set up by an impressive bowling display, with two wickets apiece for Alana Dalzell, Cara Murray and skipper Delany. A good win for Ireland who looked much more dominant in the shorter format. The Celtic Challenge Series concludes on Tuesday with a final T20I.
3rd ODI: Ireland beat Scotland by 33 runs
Desert Springs, Spain, 21 October.

Ireland 239/9 (50 overs: Leah Paul 70, Laura Delany 41, Amy Hunter 37, Arlene Kelly 26; Hannah Rainey 5-41, Abtaha Maqsood 2-27)

Scotland 206 (49 overs: Kathryn Bryce 83, Priyanaz Chatterji 32, Maryam Faisal 26; Arlene Kelly 4-35, Cara Murray 3-36)
Arlene Kelly (Mateo Villalba)
Toss: Ireland. Another close game between these sides but in the end a win for Ireland that gives them the series 2-1. Both sides very much rely on their top order to score the runs and both look vulnerable if they fail to deliver. Two T20s next up on Monday and Tuesday, and it will be interesting if there will be a move to a more 'postive' approach in the early overs in the reduced format.
2nd ODI: Ireland beat Scotland by 79 runs
Desert Springs, Spain, 19 October.

Ireland 270/6 (50 overs: Orla Prendergast 64, Leah Paul 58, Amy Hunter 56, Laura Delany 28*; Kathryn Bryce 2-44)

Scotland 191 (39 overs: Kathryn Bryce 67, Sarah Bryce 23, Aisla Lister 47; A Canning 4-36, Cara Murray 2-37, Arlene Kelly 2-36, Freya Sargent 2-33)
Orla Prendergast top-scored for Ireland as they levelled the series. (Mateo Villalba)
Slow start / steady start, call it what you will but certainly plenty of 'dots' in the early overs as Ireland look to set a total. Amy Hunter's arrival at the crease upped the scoring rate going at better than a run-a-ball. Ireland 115/1 at the halfway stage suddenly looking on course for 200 plus. Orla Prendergast delivers again with another half century and this is looking like a big chase for the Scots. And it looked as if Ireland would need every one of their 270 runs as the Scots got to 170/5 needing 101 with 17 overs remaining. But the innings fell away dramatically as they lost their remaining five wickets for only 21 more runs. Revenge for Ireland with the series tied 1-1.
1st ODI: Ireland lost to Scotland by 40 runs
Desert Springs, Spain, 17 October.

Scotland 211 (47.2 overs: Kathryn Bryce 78, Sarah Bryce 42; Georgina Dempsey 2-25, Freya Sargent 2-38, Arlene Kelly 2-34, Laura Delany 2-23)

Ireland 171 (41.4 overs: Leah Paul 43, Orla Prendergast 37, Arlene Kelly 25; Hannah Rainey 3-30, Darcey Carter 2-47, Abtaha Maqsood 2-47)
Laura Delany saw her ambition of winning all five matches in Spain this week ended at the first hurdle as Scotland took their official one-day international bow with a 40-run victory over Ireland at the Desert Springs complex. Ireland skipper Delany won the toss only to see Scottish sisters Sarah and Kathryn Bryce race away to 83/1 before ODI debutante Freya Sargent took two wickets in the 19th over with her off-spin.Kathryn Bryce continued to a top score of 78 but steady wicket-to-wicket bowling from Delany and Arlene Kelly prevented the tail from wagging and 212 to win should have been well within the compass of Ireland's batters, albeit on a painfully slow pitch. Leah Paul helped build a solid platform of 97/2 at the halfway point of the chase but her lbw dismissal for 43 sparked a mini-collapse that saw the Girls in Green slip to 123/5. The turning point of the game was a mix-up between Orla Prendergast and Rebecca Stokell that resulted in the latter, who had been in good touch, being run out for 37, and Ireland finished well short on 171 when Kelly was last out for 25. Ed Joyce will want to work on his side's fielding, which looked rusty in comparison to Scotland's, and the Ireland coach may consider that batting first is likely to be a better option in tomorrow's second 50-overs game of three.
Scotland Women A v Ireland U19 Academy - match abandoned
Clydesdale, 22 August.

Scotland

Ireland
Scotland Development XI beat Ireland Development XI by 57 runs
Clydesdale, 21 August.

Scotland 138/6 (20 overs: L Jack 56*, E McGee 2-25)

Ireland 81/7 (20 overs: A Tector 20; P Chatterji 2-11, O Bell 2-15)
Clydesdale is hosting the games this week (Stephen McCartney)
Lorna Jack's half century ensured Scotland got the four-match series off to a winning start as they beat Ireland by 57 runs in the opening game at Clydesdale. Jack hit five fours in her unbeaten 56 as the hosts posted 138 for 6 in their 20 overs. Rush bowler Ellie McGee took 2 for 25, while there was a wicket apiece for Niamh MacNulty and Alice Tector. The Irish reply was dealt a severe blow with the dismissal of skipper Amy Hunter in the first over. They never really threatened thereafter, with only Alice Tector (20) making an impression. The teams are back in action on Tuesday when they face each other in a 50-overs game at the same venue.
3rd T20I: Netherlands lost to Ireland by 6 wickets.
Amstelveen, 17 August.
Netherlands 116-6 (20 overs; I Zwilling 56; A Kelly 2-20)

Ireland 119-4 (19.1 overs; R Stokell 33*, S MacMahon 23*, G Lewis 20)
Ireland with the trophy (Cricket Ireland)
Ireland completed a clean sweep of their T20I series against The Netherlands, but hey were pushed all the way by the hosts, who took the contest to the final over. The Oranje posted 116 for 6 with Iris Zwilling hitting 2 sixes and 2 fours in her 56. Arlene Kelly (2-20) was again the most successful Irish bowler, taking her weekly tally to 10. Unlike previous games, the Irish lost early wickets and were very much in a real contest at 69 for 4 in the 13th. An unbroken fifth wicket stand of 50 by Rebecca Stokell (33*) and Sophie MacMahon (23*) got the Irish over the line with five balls to spare, although the hosts will be rueing some missed opportunities.
2nd T20I: Netherlands lost to Ireland by 66 runs
Amstelveen, 16 August.

Ireland 148/6 (20 overs: A Hunter 36, O Prendergast 25, L Delany 20; R Rijke 3-37)
Netherlands 82 (15.5 overs: B de Leede 21, L Delany 3-5, A Kelly 3-11, G Dempsey 2-16)
Ireland captain Laura Delany (Sportsfile)
Laura Delany delivered a Player of the Match performance on the day when she overtook Mary Waldron to become Ireland Women's most-capped player with 185 international appearances. Delany scored 20 and followed it up with three wickets on a day to remember for the affable Irish skipper. Belfast teenager Amy Hunter top-scored with 36 and Orla Prendergast chipped in with 25 as Ireland posted 148 for 6 - Louise Little adding late impetus with an unbeaten 17 from just 6 balls. Heather Siegers (18) struck a few powerful blows as the Dutch threatened briefly at 46 for 2, before losing four wickets for 6 runs to end their brief challenge. Arlene Kelly (3-11) made it 8 wickets in two games, while there were two for Georgina Dempsey and a memorable first international scalp for Clontarf teenager Freya Sargent in a 66-run win. The day though belonged deservedly to Delany (3-5) who will lift the series trophy on Thursday as the Irish have an unassailable 2-0 lead in the three-game competition.
1st T20I: Netherlands lost to Ireland by 10 wickets
Amstelveen, 14 August.
Netherlands 92/9 (20 overs; R Rijke 38, P Molkenboer 23; A Kelly 5-12, G Dempsey 2-13)

Ireland 96/0 (13.1 overs; A Hunter 49*, G Lewis 43*)
Arlene Kelly took 5 for 12 (KNCB)
Arlene Kelly took five wickets in a Player of the Match display as Ireland beat The Netherlands convincingly by 10 wickets in the first game of their three-match series in Amstelveen. Orla Prendergast and Ava Canning struck in the first two overs, while Georgina Dempsey got two in an over -including the Dutch star Babette de Leede - to leave the hosts reeling on 18 for 4. Robin Rijke (38) and Phebe Molkenboer (23) put on 39, and at 57 for 4, they had settled the ship. However, New Zealand born medium pacer Kelly produced Irish record T20I figures of 5 for 12 to wreck the innings. A final total of 92 for 9 was never going to be enough and so it proved. Belfast teenager Amy Hunter just missed out on a maiden T20I half centiry, hitting 4 fours and 2 sixes in her unbeaten 49, while Gaby Lewis hit 9 boundaries in her 43 not out off 37 balls. The Irish gave a debut to Clontarf teenager Freya Sargent, who although wicketless, showed enough promise to get further chances. The teams meet again at the same venue on Wednesday.
3rd T20I: West Indies beat Ireland by 8 wickets
St Lucia, 8 July.

Ireland 116-9 (20 overs, Amy Hunter 44, Orla Prendergast 40, H Matthews 4-14 (inc hat trick) , Cherry-Ann Fraser 2-29)

West Indies 120-2 (18.1 overs, Hayley Matthews 48, Aalayah Alleyne 40* , Chinelle Henry 13*)
2nd T20I: West Indies beat Ireland by 8 wickets
St Lucia, 6 July.

Ireland 113-7 (20 overs, Amy Hunter 33, Laura Delany 20)

West Indies 114-2 (16.4 overs, Hayley Matthews 50, Chinelle Henry 22)
Amy Hunter scored 33 (Cricket West Indies)
Ireland lost the second match of their T20I series against the West Indies as the hosts took an unassailable 2-0 series lead. Amy Hunter's 33 (4 fours) was the best of an Irish total of 113 for 7 - the innings never really geting going after the influential duo of Gaby Lewis and Orla Prendergast both went early for just two apiece. Laura Delany made a sedate 20, while there were double figure contributions from Eimear Richardson (16), Rebecca Stokell (15) and Arlene Kelly (13). Ed Joyce's side didn't help their cause with no fewer than four run-outs. While their total was one more than they managed in Tuesday's last-ball loss, it proved to be woefully inadequate as once again Hayley Matthews proved Ireland's nemesis. The West Indies skipper hit 9 boundaries in a 39-ball half century that helped her side romp to an eight-wickets win in the 17th over. The Irish have the chance to finish the tour on a high as they play the third and final T20I at the same venue on Saturday.
1st T20I: West Indies beat Ireland by 2 wickets
St Lucia, 4 July.

Ireland 112-7 (20 overs; Laura Delany 34, Eimear Richardson 22; Hayley Matthews 3-22, Cherry-Ann Fraser 2-22)

West Indies 113/8 (20 overs; Hayley Matthews 37; Arlene Kelly 3-21)
Amy Hunter batting (West Indies Cricket)
There was heartbreak for Ireland Women as they lost a last-ball thriller against the West Indies in the first of their three T20I's in St Lucia. Skipper Laura Delany's 34 was the highlight of what looked a modest 112 for 7 - three wickets for Hayley Matthews. The hosts though found scoring equally tough despite 37 from Matthews. Three wickets from Arlene Kelly (3-21) meant seven were needed from the final over with three wickets left. Cara Murray struck from the third ball, leaving the equation 5 from 3 balls. A two followed by a leg-bye left two required from the last ball. However, a crucial wide, followed by a single saw a joyous West Indies prevail in dramatic fashion.
ICC Women's Championship, 3rd ODI: : West Indies beat Ireland by 6 wickets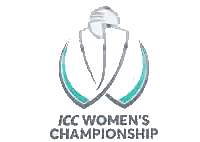 St Lucia, 1 July.

Ireland 203 (50 overs: Gaby Lewis 95*, Ava Canning 20; Afy Fletcher 3-37, Shamilia Connell 2-16, Cherry-Ann Fraser 2-20, Qiana Joseph 2-34)

West Indies 204/4 (41.1 overs; Stafanie Taylor 79*, Chinelle Henry 53*; Aimee Maguire 2-24)
West Indies celebrate with the Series Trophy (CWI Twitter)
West Indies claimed the Series 2-0 and 5 ICC Women's Championship points with a comprehensive win over Ireland in the final match of three. For Ireland Gaby Lewis 'carried her bat' for a magnificent 95* on a day to forget for the Irish batting line up. It was only Lewis' eighth wicket partnership of 43 with Ava Canning (20) and one of 50 with Cara Murray (19) that clawed the Girls in Green past the 200 mark, that proved to be in inadequate. For Ireland with the ball, ODI debutant Amiee Maguire claimed two wickets, both stumpings by Amy Hunter, while Orla Prendergast and Sophie MacMahon claimed one each, but a total of 30 Wides in the bowling figures is not a recipe for success at any level. Stafanie Taylor and Chinelle Henry swept the Windies to the win with almost nine overs to spare, in an unbroken partnership of 110, to claim the Series and ICC points, with Ireland fortunate to sneak a single point from the washed out second match, where they found themselves 36/5. Next up are the 3 T20s, again in St.Lucia, on Tuesday, Thursday and Saturday this coming week.
ICC Women's Championship, 2nd ODI: : West Indies v Ireland - match abandoned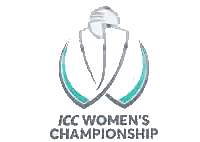 St Lucia, 28 June.

Ireland 36-5 (8.4 overs, A Alleyne 2-4, S Connell 2-24)

West Indies
West Indies won the toss but no play was possible for 5 hours due to heavy rain. and a wet outfield. The overs were reduced to the bare minimum 20. Ireland's batters were in early trouble and only Orla Prendergast achieved double figures as Ireland struggled to 36 for 5 when further rain ended the match. Ireland were fortunate to share the points in this second ODI.
ICC Women's Championship, 1st ODI: : West Indies beat Ireland by 58 runs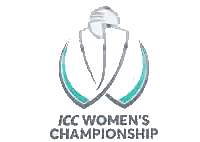 St Lucia, 26 June.

West Indies 297/6 (50 overs: Hayley Matthews 109, Stefanie Taylor 55, Chinelle Henry 53*, Shemaine Campbelle 24; Cara Murray 3-60)

Ireland 239/9 (50 overs: Gaby Lewis 83, Laura Delany 40, Orla Prendergast 37, Mary Waldron 20; Hayley Matthews 3-53, Afy Fletcher 2-49, Qiana Joseph 2-53)
Gaby Lewis during her innings of 83 (Cricket West Indies)
Quite a total set by the Windies for Ireland to chase, with Matthews and Taylor adding 156 for the second wicket. Fortunately for the Girls in Green both were out within five balls of each other which slowed the Windies charge somewhat. Cara Murray the pick of the bowlers with three wickets while there were one each for Ava Canning, Arlene Kelly and Sophie MacMahon. No great urgency in the chase from Ireland, but Lewis and Prendergast put together a steady confidence boosting fifty partnership. Amy Hunter joined Laura Delany at the fall of Lewis' wicket but was out for just a single and when Delany herself was out the asking rate had reached 12 an over. Valuable time at the wicket for the top order but no real prospect of chasing down that big first innings score by the hosts.
Women's World T20, Group B: : India beat Ireland by 5 runs (DLS).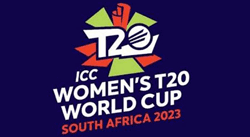 St George's Park, Gqeberha, 20 February.

India 155/6 (20 overs: Smriti Mandhana 86, Shafali Verma 24; Laura Delany 3-33, Orla Prendergast 2-22)

Ireland 54/2 (8.2 overs: Gaby Lewis 32*)
(Target 60 off 8.2 overs)
Ireland players celebrate Amy Hunter's catch off Delany's bowling that claimed Verma's wicket. (ICC)
Ireland finished their World Cup odyssey today with a game against the juggernaut that is India.Taking wickets has been a struggle throughout the campaign and it was no different today as Smirti Mandhana and Shafali Verma added 62 for the first and Mandhana and Harmanpreet Kaur another 52 before the second wicket fell at 114. Two in two for skipper Delany and ditto for Orla Prendergast in the nineteenth over, what would Ireland have given for those wickets earlier in the innings. They had their chances as it was another day when more were dropped than held. Of those that were, two were quite special, Amy Hunter diving forward at deep square to remove Verma and another stunner from Prendergast who made ground and dived to hold the catch from Kaur. Late wickets for Ireland but that couldn't stop India posting a challenging 155 in their twenty overs. Ireland's reply started in disastrous fashion with Amy Hunter run out by a distance answering Lewis' improbable call of 'two'. To make matters worse Orla Prendergast advanced to seamer Renuka Thakur, played inside it and the ball hit the top of off stump. Skipper Delany found the boundary off the sixth delivery and Ireland were 5 for 2 wickets at the end of the opening over. Gaby Lewis and Laura Delany set about the recovery and posted a fifty partnership, not without risk, before rain forced a delay with India 5 runs ahead on DLS. And that was how it ended, as the rain did not relent in time to allow a resumption of play. Ireland disappointed not to get back on the pitch, as a reduced target would have been to their advantage, putting less pressure on their middle and late order batting line up which has wilted in previous games. Oh so close to a famous win but in the end a bit of a damp squib on a day that started in glorious sunshine.
Women's World T20, Group B: : Ireland lost to West Indies by 6 wickets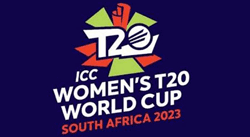 Newlands, Cape Town, 17 February.

Ireland 137/9 (20 overs: Orla Prendergast 61, Gaby Lewis 38; Shamilia Connell 3-24, Karishma Ramharack 2-18, Afy Fletcher)

West Indies 140/4 (19.5 overs: Hayley Matthews 66*, Chinelle Henry 34)
Orla Prendergast top scored with a 47 ball innings worth 61 runs. (ICC)
Ireland won the Toss and opted to bat but lost Amy Hunter with just a single on the board - a swing across the line and a top edge lobbing to mid wicket. Orla Prendergast has looked head and shoulders above the rest of the batting line up in terms of her timing and clean striking of the ball, and today was no exception. She scored 61 that included 6x4 and 1x6 off only 47 deliveries in a partnership with Lewis worth 90 off 67. Lewis found her rhythm after a slow start, and when she was third out the score had reached 116. A sorry but familiar tale thereafter, as noted by commentator Ian Bishop, as not for the first time the innings petered out, well short of what looked possible for three-quarters of the way through the 20 overs. West Indies skipper Hayley Matthews was dropped off a straighforward chance at backward point when only 8 and she had moved on to 31 at the Drinks break - the Windies 58/2 at that point. Ireland were not at their best in the field, missing a couple of run-out chances and gifting a couple of boundaries with misfields that helped keep the Windies in the game. Matthews moved to her half-century off only 40 deliveries and when she was dropped twice more one sensed that it was not to be Ireland's night. Was it the batting, the bowling or the fielding that cost Ireland the game? One could make the case for each, or indeed all three, but one thing is certain - Orla Prendergast deserved better than to finish on the losing side.
Women's World T20, Group B: : Ireland lost to Pakistan by 70 runs.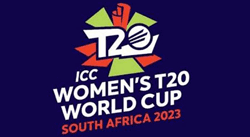 Newlands, Cape Town, 15 February.
Pakistan 165/5 (20 overs: Muneeba Ali 102, Nida Dar 33; Arlene Kelly 2-27)

Ireland 95 (16.3 overs: Orla Prendergast 31, Eimear Richardson 28; Nashra Sandhu 4-18, Nida Dar 2-5, Sadia Iqbal 2-17)
Muneeba Ali whose maiden T20 century was the first in this Tournament (ICC)
A maiden century for Muneeba Ali, the first in the Tournament was more than enough to see Pakistan to a revenge victory in Cape Town. In partnership with Nida Dar 101 runs were added, with Ireland neither looking like taking a wicket, nor able to stop the singles flowing. There were two wickets for Arlene Kelly in the twentieth over, but by then it mattered little. Not a great day in the field either for the Girls in Green who missed more than one chance. The Pakistan total was a formidable one and given the nature of the Newlands pitch, slow with some spin and 'tennis ball' bounce, the danger of coming down the wicket and not getting to the pitch of the ball was an ever present one. Orla Prendergast again showed what a clean hitter of the ball she is and Eimear Richardson worked the ball into spaces to find the boundary five times, but it was mission impossible for the others whose departures were as disappointing as they were predictable given the situation. Ireland face the West Indies on Friday, again at Newlands, and again under the lights, so hopefully lessons learned tonight will prove useful as they seek their first win in the Tournament.
Laura Delany after the loss to Pakistan
Women's World T20, Group B: : England beat Ireland by 4 wickets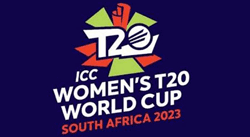 Paarl, 13 February.

Ireland 105 (18.2 Overs: Gaby Lewis 36; Sophie Ecclestone 3-13, Sarah Glenn 3-19 )

England 107-6 (14.2 Overs: Alice Capsey 51; Cara Murray 3-15)
Sophie Ecclestone celebrates the wicket of Irteland's top scorer Gaby Lewis. (ICC)
Ireland battled bravely but a horror collapse put paid to any chance of Ed Joyce's side pulling off a shock against England. Gaby Lewis top scored with an even time 36 as the Irish reached 80 for 2, before the wheels came off against the English triumvirate of spinners, as eight wickets fell for 25 runs. Orla Prendergast struck in the first over of the chase, but Alice Capsey hit 10 fours and a six as she made a T20 World Cup equaling record half century from just 21 deliveries. Her dismissal sparked a collapse with Cara Murray's lack of pace causing trouble, taking 3 for 15 as England limped to the four-wicket win. Next up for Ireland is Pakistan on Wednesday.
Women's World T20, Warmup: : Australia lost to Ireland by 3 wickets.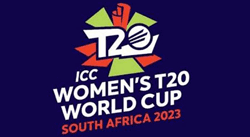 Stellenbosch, 8 February.

Australia 168/3 (20 overs: Alyssa Healy 62* ret.hurt, Tahlia McGrath 56* ret.hurt, Ellyse Perry 40*; Orla Prendergast 2-19)

Ireland 169/7 (19.4 overs: Laura Delany 32, Orla Prendergast 26, Amy Hunter 26, Louise Little 21; Megan Schutt 2-16, Alana King 2-25)
The end of Laura Delany but the Irish skipper made a vital contribution to the win. (ICC)
What a win for the Girls in Green! Australia won the Toss and elected to bat, but the perfect start for Ireland with Orla Prendergast bowling Beth Mooney first ball of the match! Tahlia McGrath joined Alyssa Healy at the crease and it was 'normal sevice resumed' as both raced along to their half-centuries, and it was no surprise to then see both Tahlia McGrath and Alyssa Healy 'retiring hurt' - nothing too serious for either I would imagine! Arlene Kelly had Grace Harris caught, making it the second 'duck' of the day by an Aussie and Orla Prendergast finished with figures of 2-19 from her four overs, yorking Meg Lanning in the twentieth over. Amy Hunter and Gaby Lewis started the chase but Lewis fell lbw to Jess Jonassen for only 11 and Hunter, who had started at a gallop with 26 off only 14 deliveries was caught, failing to clear mid-off in the next over. Orla Prendergast went on the counter attack, taking 13 off a Jess Jonassen's over but was caught off Tahlia McGrath's first delivery. And when Eimear Richardson was out in the tenth over the steam may just have been taken out of Ireland's chase. Ireland were well up with the rate but needed to keep it going at better than a run-a-ball from here. Elysse Perry helped Ireland's cause with her two overs costing 34! Louise Little was stumped off the legspin of Alana King and skipper Delany was bowled next over. The experienced Megan Schutt returned for the nineteenth over and bowled Mary Waldron leaving Ireland needing 9 off the final Tahlia McGrath over and they got them with two balls to spare!
Women's World T20, Warmup: : Ireland lost to Sri Lanka by 2 runs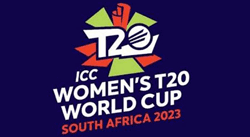 Stellenbosch, 6 February.

Sri Lanka 149/5 (20 overs: Harshitha Samarawickrama 56* (ret.hurt), Vishmi. Gunaratne 36, Chamari Athapaththu 27; Laura Delany 3-20)

Ireland 147 (19.5 overs: Gaby Lewis 38, Arlene Kelly 30, Laura Delany 21; Oshadi Ranasinghe 3-22, Inoka Ranaweera 3-26)
Harshita Samarawickrama on her way to 56* before retiring hurt. (ICC)
So close to a win for Ireland who needed four off the final over only to fall three runs short of a famous victory. Ireland had asked Sri Lanka to bat first in this first of two 'official' warmup matches, the game listed as 15-a-side (11 batting, 11 bowling). Sri Lanka had moved to 71/1 at the halfway stage and were 133 before Eimear Richardson picked up the wicket of Gunaratne with the final delivery of her four over spell. There were three twentieth over wickets for skipper Laura Delany as Sri Lanka set Ireland a target of 150 to win. There was a flying start to the reply by Gaby Lewis who found the boundary with ease but lost partner Amy Hunter who was bowled for 5. Ireland lost a second in the Powerplay as Prendergast departed, but it was still a decent start to a tough chase. Just when it looked as if Ireland were getting on top they lost two quick wickets, as Lewis and Richardson departed in quick succession. Ireland were 73/4 at the halfway point, up with the asking rate and with skipper Laura Delany and Louise Little in the middle. Two balls later the Drinks break had claimed Little, stumped for 11 to give Ranasinghe her third wicket. A tough but doable 49 needed off six overs became tougher when Delany was run out but Ireland were right back in the game when 15 came from the 16th over with Leah Paul and Arlene Kelly striking some lusty blows. A six from Kelly and suddenly Ireland were favourites only 15 needed off 15 balls. Arlene Kelly hit another six taking 11 off the penultimate over to leaves just four needed from the last. A dramatic start as Cara Murray is trapped lbw to leave 3 needed off 3 balls. With last batter Jane Maguire at the crease it was heartbreak as Kelly was run out off the penultimate ball trying to get the strike. So near but yet so far. Next up it's Australia on Wednesday for the Girls in Green. Warmups don't come much tougher than that but they will be heartened by today's performance with the bat.
Women's World T20, Warmup: : Bangladesh lost to Ireland by 8 wickets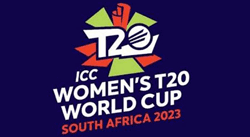 Cape Town, 3 February.

Bangladesh 120/6 (20 overs: Shamima Sultana 34, Shorna Akhter 28; L Paul 3-17)

Ireland 124/2 (18.5 overs: O Prendergast 49*, E Richardson 34, L Delany 19*, G Lewis18; Fahima Khatun 2-16)
Orla Prendergast batting (CricketEurope)
Three wickets for Leah Paul and an unbeaten 49 by Orla Prendergast led Ireland to a morale boosting eight-wicket win over Bangladesh in their unofficial T20 World Cup warm-up game. Left-arm spinner Paul claimed 3 for 17, while there was a wicket apiece for Jane Maguire (1-11), skipper Laura Delany (1-18) and Cara Murray (1-18) as Bangladesh posted 120 for 6. The continued absence of regular T20 opener Amy Hunter with her thumb injury sustained in the U19 World Cup saw Eimear Richardson promoted to open the innings and the move was a successful one. Richardson hit five fours and a six in a breezy 34 from just 24 balls, dominating an opening stand of 50 with Gaby Lewis (18), before both fell in quick succession. Orla Prendergast took up the mantle as she hit seven boundaries in an unbeaten 49 from 39 deliveries, adding an unbroken 67 with Laura Delany (19*) as the Irish sealed the win with seven balls to spare. Ed Joyce's squad play their first official warm-up match on Monday against Sri Lanka (8am GMT).
Women's World T20, Warmup: : Bangladesh v Ireland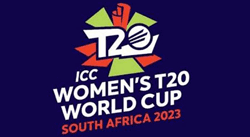 Cape Town, 1 February.

Ireland 94/7 (20 overs: O Prendergast 36, M Waldron 21; Jananara Alam 4-20)

Bangladesh 95/5 (18.2 overs: M Khatun 35 ret.no, Shamima Sultana 20, Lata Mondal 19*; G Dempsey 2-5, L Delany 2-14)
Orla Prendegast scored a run-a-ball 36 in Ireland's innings. (Rodney Smythe)
Ireland Women's delayed first warm-up game against Bangladesh turned into a farce after Ed Joyce's side were forced to borrow three players from the opposition in order to get a fully fit side out on the park. The Irish have been hit by tummy troubles which saw the original date pushed back 24 hours. Hopefully there will be 'runs' of a different kind when they start their campaign in earnest on February 13th. Star player Gaby Lewis went for a three ball duck - one of four wickets for Jahanara Alam - who also dismissed skipper Laura Delany second ball. Orla Prendergast struck five boundaries as she top-scored with a run-a-ball 36, while Mary Waldron made 21 from 34 balls. Ruhana Ahmed's unbeaten 17 was the other double figure score in Ireland's 94 for 7. Bangladesh's Khatun made 35 in an opening stand of 54 before retiring to give others a chance to get some middle practice. Laura Delany (2-14) and Georgina Dempsey (2-5) brought respectability to the outcome with a brace apiece, but Bangladesh clinched the low-key win with five wickets and ten balls to spare. The sides will meet again on Friday, when hopefully both will be at full strength.
More from CricketEurope

International and domestic scorecards & statistics - for teams, competitions and players.

All the material published by CricketEurope since 2000 … and more!
Use the pull down menu above to view the latest international, interprovincial and provincial league tables.
Rachit Gaur
Ardmore captain Rachit Gaur after they won the Premiership